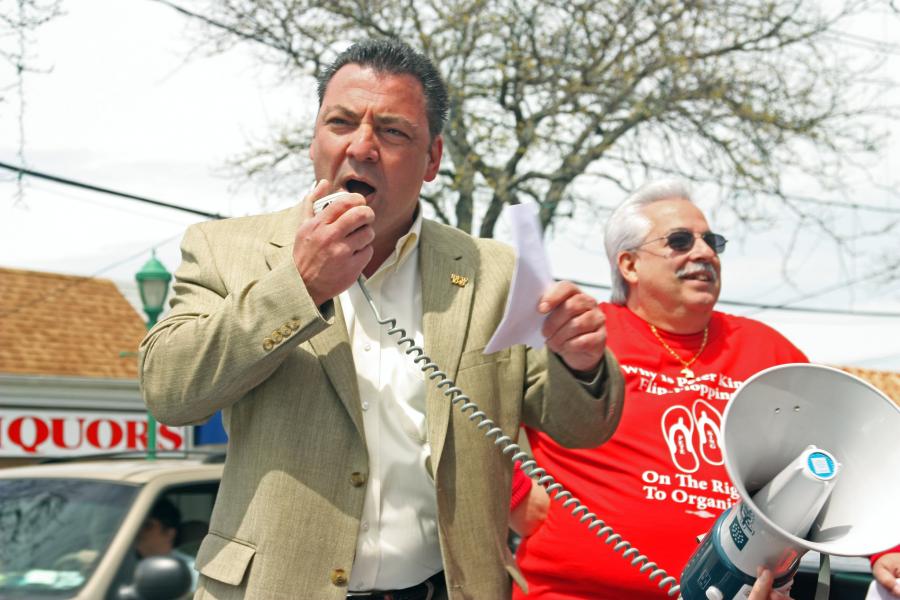 As former union organizers and staff reps from organized labor, UCOMM staff has the know-how and experience to assist your staff with coordinating all aspects of protest organization.  Read below how UCOMM assisted our client Long Island Teachers with media and protest logistics.
When union teachers announced in early January that they were planning on protesting nationwide on Inauguration eve, we knew we had to step it up to assist our teachers' union clients. Sadly, half of union teachers supported Trump at the polls. They were rewarded with Betsy DeVos, a woman who Trump has selected to run the Education Department who has a history of privatizing public schools and has actively worked to eliminate collective bargaining rights for educators. We worked closely with the Bay Shore Classroom Teachers Association (BSCTA) and Long Island Teachers.org, along with the Long Island Federation of Labor, AFL-CIO. The BSCTA did most of the legwork, engaging their own membership about the importance of mobilizing on this issue. They hosted the rally at their headquarters and invited other organizations to join them. "I was impressed with how Mike Krieger, the President of the Local handled this action," says Kris LaGrange. "He knew that he had a large number of his members who voted for Trump and that other leaders were hesitant to hit the streets, but he talked about issues and was able to mobilize over 100 of his members at 3 pm on a Thursday. Mike stuck his neck out and was rewarded with a tremendous amount on press."
On Inauguration Eve, there were many protest planned in the region, but the work that the clients put in, along with our contacts, systems and outreach, led to 4 TV news stations and a few newspapers covering our action. We tracked and reported all the media with some editorializing on UCOMM Blog in a story titled Waking People Up.
The press was just one aspect, the action in itself was unique, organized and energetic. From 2:30 to 3 pm early rally goers made signs, from 3 pm to 3:30 pm a long picket line was organized, speeches from a dozen leaders were conducted from 3:30 to 4, then more picketing with honks of support from cars passing by took place until about 4:15 pm. UCOMM clients came out to support the teachers, since collective bargaining rights are shared by all in attendance. This included the Nassau Corrections Officers Benevolent Association, CWA Local 1108 and the Suffolk Association of Municipal Employees along with the Long Island Federation of Labor, AFL-CIO. Higher up leadership from the New York State United Teachers made it down for the rally and the past president from that organization stopped by to give some remarks as well.
"This action took up a lot of our time, but the end result made it worth every headache. I hope that the clients learned from what we have always advocated that your members will mobilize; you just have to ask them to."